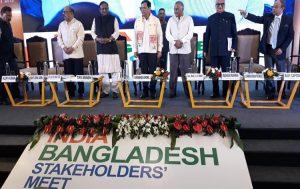 The 1st India-Bangladesh Stakeholders' meet was held in Guwahati. Bangladesh was represented by Commerce Minister Tipu Munshi. India is the second-largest trading partner of Bangladesh.
A 70-member delegation from Bangladesh is participating in the meet, while a similar top-level team will represent the host nation. The idea of the meet is to put Assam at the focus point of India's trade expansion with the Association of Southeast Asian Nations as well as Bangladesh, Bhutan, and Nepal.
Static/Current Takeaways Important For RBI Grade 'B' 2019:
Bangladesh Capital: Dhaka; Currency: Taka; PM: Sheikh Hasina.
Source: The DD News