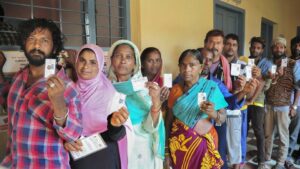 As per Election Commission of India, the 2019 Lok Sabha elections witnessed a voter turnout of 67.10% (interim), which is the highest ever voter turnout in the history of general elections.
The previous highest voter turnout of 66.44% was recorded in 2014. The seven-phase 2019 elections began on April 11 and concluded on May 19, with counting scheduled for Thursday.
Source- The Livemint
Static/Current Takeaways Important For SSC CGL 2019:
It was the 17th General Elections that was conducted in India.
Sunil Arora is the Chief Election Commissioner of India.
Ashok Lavasa and Sushil Chandra are 2 Election Commissioner of India.