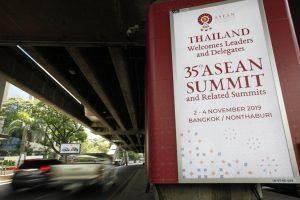 The 35th ASEAN Summit began in Bangkok, Thailand from October 31 to 4 November. The Association of Southeast Asian Nations (ASEAN) is a group of ten member countries that encourages political, economic and social co-operation in the region. The theme of the summit for this year is "Advancing Partnership for Sustainability".
Apart from leaders of 10 ASEAN countries head of Eight dialogue partner countries including India, USA, China, Japan, Republic of Korea, Australia and New Zealand are also participating in the summit. East Asia Summit (EAS) and Regional Comprehensive Economic Summit ( RCEP) will be also held on the sidelines of 35th ASEAN Summit.
Static/Current Takeaways Important For RBI Grade 'B' 2019:
10 ASEAN member countries: Indonesia, Thailand, Singapore, Philippines, Malaysia, Vietnam, Brunei, Cambodia, Myanmar (Burma), Laos.
Source: The News on AIR