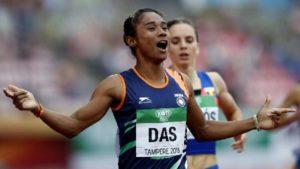 Indian athletes have won 4 gold medals in the Kutno Athletics Meet held in Poland.
Following is the list of winners in the different categories:
Hima Das won the gold while V.K. Vismaya bagged the silver in the women's 200m race.
Muhammed Anas won the gold in men's 200 m race.
M P Jabir won the gold while Jithin Paul bagged the bronze medal in the men's 400m hurdles.
P Saritaben (gold), Sonia Baishya (silver) and R Vithya (bronze) won the women's 400 m race.
Source: The Hindu