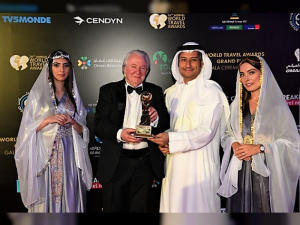 Abu Dhabi (UAE) has been selected as the world's leading Sports tourism Destination at the 26th edition of the World Travel Awards (WTA) being held in Muscat, Oman. This is the 7th time in a row that Abu Dhabi has been selected for this coveted award. The award is the latest in several prestigious accolades gained by Abu Dhabi this year, including being selected as the West Asia's Leading Business Tourism Destination at the West Asia edition of WTA and Best City Break at the UK's Selling Travel Agents' Choice Awards.
Abu Dhabi shined as a premium destination once again for sports tourism in 2019 after hosting so Abu Dhabi me of the world's top sporting events, such as the FIFA Club World Cup 2017 and 2018, the first edition of the UAE Tour, the AFC Asian Cup 2019, the Special Olympics World Games 2019, the UFC 242 showdown and the Brazil vs South Korea international friendly match.
Sports tourism has been labelled by the United Nations World Travel Organisation, UNWTO, as one of the fastest-growing sectors of tourism worldwide. World Travel Awards was established in 1993 to acknowledge, reward and celebrate excellence across all key sectors of the travel, tourism and hospitality industries.
Static/Current Takeaways Important For RRB NTPC/SSC CGL:
Khalifa bin Zayed Al Nahyan is President of the UAE.
Abu Dhabi is the capital of the UAE.
The United Arab Emirates dirham is the currency of the UAE.
Source: The News on AIR