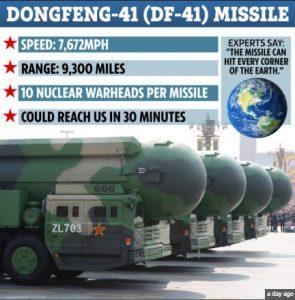 China unveiled the Dongfeng-41 (DF-41) intercontinental-range ballistic missile, touted to be the most powerful missile on the planet at the National Day parade, as China observed its 70th anniversary of Communist rule. DF-41 has a range of up to 9,320 miles (15,000 kilometres), more than any missile on Earth.
The missile capable of carrying 10 independently targeted nuclear warheads and could theoretically, hit the United States in 30 minutes, according to the Missile Defense Project at the Center for Strategic and International Studies. China has also displayed its underwater vehicles and new stealthy DR-8 drones thought to be able to fly up to five times the speed of sound.
Static/Current Takeaways Important For RRB NTPC/IBPS RRB Mains:
President of China: Xi Jinping.
Capital of China: Beijing; Currency: Renminbi.
Source: The Economic Times
Find More International News Here