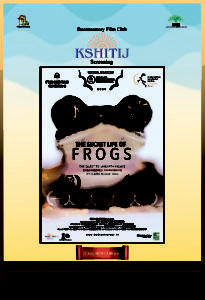 Film Divisions will launch documentary film club "KSHITIJ" in Mumbai. The club will be launched by Films Division, Ministry of Information & Broadcasting, Government of India, in association with Indian Documentary Producer's Association (IDPA).
The acclaimed documentary film "Secret Life of Frogs" by Ajay & Vijay Bedi will be screened as the inaugural film. 
With this, the film-lovers will now have an opportunity to watch acclaimed documentary films at public screenings, as well as interact with the director/curator of the films.
Source: The DD News
Find More Miscellaneous News Here