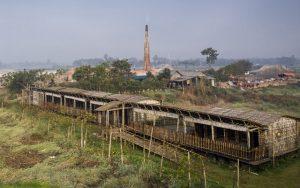 Floating school project of Bangladesh wins Aga Khan Architecture Award. Bangladesh is a land of water. A large part of its landscape remains submerged underwater during the monsoon months. When Razia Alam came back from England after retirement as a teacher, she wanted to build a school for children which is spacious, modern and healthy for learning.
Razia also wanted it to be built at the land which was underwater for about six months of the year during the monsoon period. She contacted the internationally renowned architect of Bangladesh Saif Ul Haque to design the school. He took up the project and came with a school which has won many prestigious awards including the Aga Khan award. It is a floating school named 'The Arcadia Education Project'.
'The Arcadia Education Project' in South Kanarchor of Bangladesh is an innovative concept. It is an amphibious school built with local material and expertise near the capital city Dhaka. The floating school is unique in its design and novel in its concept. The school also serves as a shelter, a daycare centre and a vocational training centre for the local people.
Source: The News on AIR