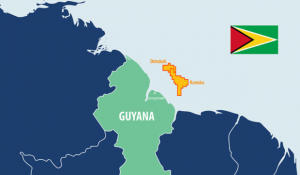 According to the International Monetary Fund (IMF), Guyana's GDP is expected to be more at 86% in 2020 after expanding 4.4% in 2019. This growth expectation had done after Exxon Mobil Corp.'s discovery of oil at Guyana. Guyana's economy will grow more than three times within five years.
Guyana' GDP is to get fourteen times as fast as China's GDP in 2020. Guyana is projecting $300 million in petroleum revenue in 2020. It is a country of South America with 7,80,000 population and neighbour countries are brazil & Venezuela. The oil sector will represent about 40% of the economy within five years. It crosses $4billion annual Gross domestic product (GDP) and also it will expand to about $15 billion by 2024.
Static/Current Takeaways Important For RRB NTPC/SSC CGL:
President of Guyana: David A.Granger; Prime minister of Guyana: Moses Nagamootoo.
Capital of Guyana: George Town; Currency of Guyana: Guyanese Dollar.
Source: The Hindustan Times