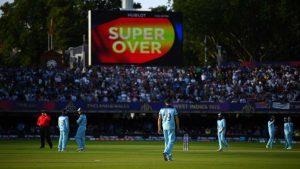 The International Cricket Council (ICC) has changed the super-over rule for all its major events following the uproar over the outcome of the men's World Cup final this year when England was declared winners against New Zealand on boundary count. As per new rule, in case of a super over tie, there will be a repeated super over until one team has more runs than the other.
Static/Current Takeaways Important For IBPS RRB Main 2019:
ICC Chairman: Shashank Manohar; Headquarters: Dubai, United Arab Emirates.
The 13th edition of ICC Cricket World Cup will be held in India from February 9 to March 26, 2023.
Source: The News on AIR