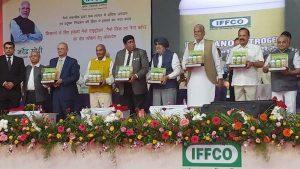 The world's largest fertilizer cooperative Indian Farmers Fertiliser Cooperative Limited (IFFCO) introduced India's 1st nanotechnology-based product range by introducing Nano Nitrogen, Nano Zinc, Nano Copper for on-field trials at an event held at its Kalol unit in Gujarat.
The products were produced at IFFCO's Nano Biotechnology Research Centre (NBRC) in Kalol unit. The first phase of the launch was tested with support from Krishi Vigyan Kendras (KVK)/Indian Council of Agricultural Research (ICAR). These nanostructured formulations effectively deliver nutrients to the plants. Other benefits of these Nano-products include a reduction in the requirement of conventional chemical fertilizer by 50%, up to 15-30% increase in crop production, improvement in soil health, reduction in the emission of greenhouse gases.
Static/Current Takeaways Important For RBI Grade 'B' 2019:
Managing Director of IFFCO: Uday Shankar Awasthi.
Founded: 3 November 1967; Headquarters: New Delhi.
Source: The Livemint
Find More Miscellaneous News Here