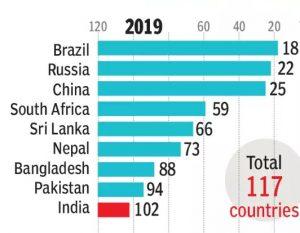 The 2019 Global Hunger Index (GHI) indicates that the level of hunger and undernutrition worldwide falls into the serious category. As per the index, India ranks 102nd out of 117 qualifying countries, with a score of 30.3.
India has slipped from 95th rank in 2010 to 102nd in 2019 on the Global Hunger Index (GHI), with the increase in the prevalence of wasting (low weight for height) among children with score under 5 contributing the most to the country's poor performance. Seventeen countries, including Belarus, Ukraine, Turkey, Cuba and Kuwait, shared the top rank with GHI scores less than 5.
There were only four countries in the alarming hunger category are Madagascar, Chad, Yemen and the Central African Republic in the extremely alarming hunger category. The report warned that climate change was causing alarming levels of hunger and making it more difficult to feed people in the world's most vulnerable regions.
The Global Hunger Index is a peer-reviewed annual report, jointly published by Concern Worldwide and Welthungerhilfe, designed to comprehensively measure and track hunger at the global, regional, and country levels. The aim of the GHI is to trigger action to reduce hunger around the world.
Source: The Business Standard
Find More Ranks and Reports Here