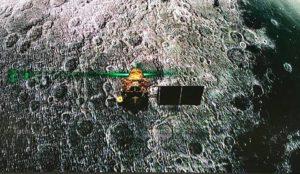 Indian Space Research Organisation has announced that it lost contact with the Moon lander "Vikram" which was scheduled to land on the moon between 1.30 a.m. and 2.30 a.m. (IST). Further the roll out of the rover "Pragyan" was scheduled between 5.30 a.m and 6.30 a.m. Lander "Vikram" started its descent at about 1.38 a.m. from an altitude of 30 km at a velocity of 1,680 metres per second, but lost its communication with the Chandrayaan-2 Orbiter when it was at an altitude of 2.1 Km from Moon's surface.
According to ISRO, the performance of the lander was as per the plan till it was 2.1 km from the moon surface. Although, the 2,379 kg Chandrayaan-2 orbiter continues to fly around the moon. Its mission life is of one year.
ISRO launched the Chandrayaan-2 (on July 22, 2019) into the space from India's heavy lift rocket Geosynchronous Satellite Launch Vehicle-Mark III (GSLV Mk III). The Chandrayaan-2 spacecraft comprised three segments: the Orbiter, lander 'Vikram' and rover 'Pragyan'.
Source: The Live Mint