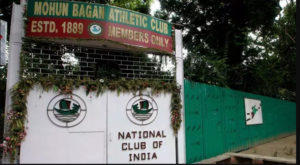 Mohan Bagan club to confer awards  in Various Disciplines. The Awardees are:
Mohan Bagan Ratan: Keshav Dutt (Hockey).
Mohan Bagan Ratan: Captain Prasun Banerjee (Football).
Club felicitates Indian Pacer: Mohammed Shami (Cricket).
Lifetime Achievement award: Ashok Chatterjee (Football).
Best Football Player for the season 2018-19: Arijit Bagui (Football).
On July 29 Mohun Bagan Club celebrates the 'Mohun Bagan Day'. Dutt will be the first sportsperson from outside the football fraternity to be bestowed with the Ratna. This is also the first time that there will be 2 Mohun Bagan Ratna recipients.
Static/Current Takeaways Important For EPFO/LIC ADO Main:
Mohun Bagan Club Established in: 1889.
President of Mohun Bagan Club: Mr. Gitanath Ganguly.
Source: The Hindu