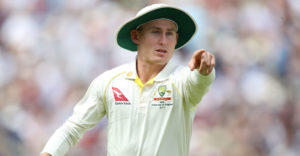 Australian player Marnus Labuschagne has become the 1st Concussion Substitute player in the history of International cricket. A Concussion Replacement Request is the notification made to the ICC Match Referee in accordance with the process set out by ICC. The Team Medical Representative is the individual designated for the assessment of any head or neck injury sustained by a player.
A Concussion Replacement is a player who takes the place of a player who has been replaced for the remainder of the match. The player will be selected from the list of nominated players provided by that team whose player was injured and will take a full part in the match.
In Ashes Series 2019, Steve Smith was ruled out of the last day of the 2nd Ashes Test match at Lord's due to concussion. Marnus Labuschagne replaced Smith on the last day of the Lord's Test.
Static/Current Takeaways Important For SBI Clerk Mains:
ICC Chairman: Shashank Manohar; Headquarters: Dubai, United Arab Emirates.
Source: The Hindu