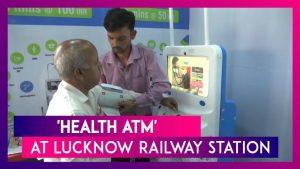 The Indian Railways has installed two 'Health ATMs' at the Charbagh railway station in Lucknow. The kiosks, promoted by YOLO Health ATM, provide 16 health check-ups for Rs 50-100. There are two types of check-ups a 9-minute one that costs Rs 100, and a 6-minute one that costs Rs 50. The report is delivered instantly to the email or smartphone of the user. The check-ups include body mass index, blood pressure, body fat, haemoglobin, metabolic age, muscle mass, weight, height, temperature, muscle mass, basal metabolic rating, visceral fat, oxygen saturation, pulse rate, blood glucose, and bone mass.
Health ATMs can be defined as private, walk-in medical kiosks with integrated medical devices for basic vitals, cardiology, neurology, pulmonary testing, gynaecology, basic laboratory testing and emergency facilities and staffed by a medical attendant.
Static/Current Takeaways Important For RBI Grade 'B' 2019:
Uttar Pradesh CM: Yogi Adityanath; Governor: Anandiben Patel.
Source: The Economic Times