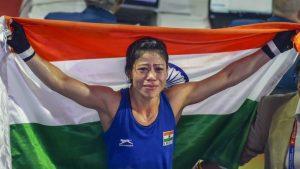 The 6-time world champion Mangte Chungneijang Mary Kom has been inducted into the 10-member sports ambassador group by the International Olympic Committee (IOC) on Boxing workforce to represent boxers ahead of the 2020 Tokyo Olympic Games.
Mary Kom will represent the Asian bloc in the group, which also comprises the likes of Ukrainian legend Vasyl Lamachenko (Europe), a two-time Olympic and world gold-medallist who now plies his trade in the professional circuit, and five-time world champion and 2016 Olympic gold-winner Julio Cesar La Cruz (Americas) among others.
Static/Current Takeaways Important For RRB NTPC/SSC CGL:
Headquarters of IOC: Lausanne, Switzerland; President: Thomas Bach.
Formation: 23 June 1894.
Source: The Hindu