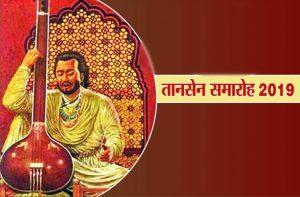 In Madhya Pradesh, popular classical music festival 'Tansen Samaroh' began with traditional style in Gwalior with the recitations of Harikatha and Milad. The 5-day festival is celebrated every year in the memory of one of the most eminent singers of Indian history, 'Mian Tansen'.
Tansen Samaroh, the oldest and esteemed classical music festival in India is organised by Ustad Alauddin Khan Kala Evam Sangeet Academy, under the Madhya Pradesh culture department attracts thousands of musicians and aspiring singers from all over the country. It is the 95th year of the festival. Artistes from Greece, USA, Iran and Belgium will perform in different sessions of Tansen festival.
Noted vocalist Pandit Vidyadhar Vyas will be presented the National Tansen Award for 2019 today on the first day of Tansen Festival. Instituted by the Madhya Pradesh government, Tansen award carries a cash prize of Rs 2 lakh and is given to outstanding exponents of Hindustani classical music.
Static/Current Takeaways Important For IBPS SO 2019:
Chief Minister of Madhya Pradesh: Kamal Nath.
Governor of Madhya Pradesh: Lal Ji Tandon.
Source: The News on AIR