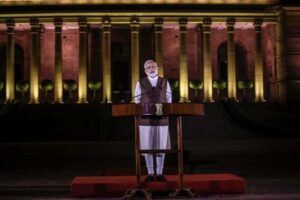 Prime Minister Narendra Modi will be administered the oath of office for his second term along with his new council of ministers on 30th May. President Ram Nath Kovind will administer the oath of office and secrecy to the prime minister and other members of the Union Council of Ministers at a ceremony in Rashtrapati Bhavan.
Modi is the first BJP leader who has been elected for the second time after completion of his five-year tenure. From BJP, Atal Bihari Vajpayee was also elected as a prime minister for two consecutive terms, but his first stint had lasted only for one year and seven months.
Important Takeaways for LIC AAO/ADO Mains-
The NDA together has a strength of 353 MPs in the 543-member Lok Sabha out of which the BJP has a majority of 303 MPs.
Source- The Economic Times