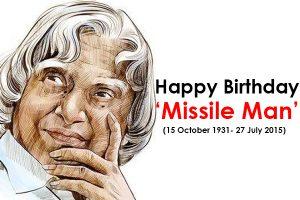 The nation pays homage to former President Dr A P J Abdul Kalam on his 88th birth anniversary and remembered his contributions to the country. The birthday of Dr APJ Abdul Kalam the most popular President of India is celebrated as World Students Day.
Avul Pakir Jainulabdeen Abdul Kalam, better known as the 'Missile Man of India' for his contributions towards the development of the country's missile projects was born on October 15, 1931, at Rameshwaram in Tamil Nadu. Dr Kalam made innumerable contributions to Indian defence. Dr Kalam's commitment, patriotism and vision to make India a strong nation will continue to inspire people.
In 2002, Dr Kalam became the 11th President of India and famously became the 'People's President' for his friendly nature to one and all. The former President suffered a cardiac arrest on July 27, 2015, and passed away while giving a lecture at the Indian Institute of Management Shillong.
Source: The Business Standard