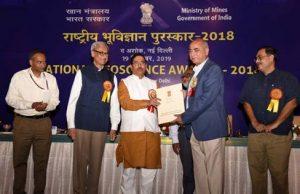 Twenty-two scientists across the country were awarded the National Geoscience Awards for the year 2018. They were awarded for their outstanding contributions in the field of geosciences, mining and allied areas. The award was conferred by the Minister of Parliamentary Affairs, Coal and Mines, Shri Pralhad Joshi.
Prof. Syed Wajih Ahmad Naqvi, Council of Scientific and Industrial Research (CSIR), received the Award for Excellence for his significant global contributions in the field of aquatic biogeochemical research. Dr Sohini Ganguly, of Goa University, was conferred with the Young Scientist Award-2018 for her significant work in the fields of petrology, volcanology and geochemistry.
The National Geoscience Awards were given in ten disciplines covering Mineral exploration, Groundwater exploration, Mining technology, Mineral beneficiation, Sustainable mineral development, Basic and applied geosciences, Geo-environmental studies and Natural hazards investigation.
Source: The Press Information Bureau