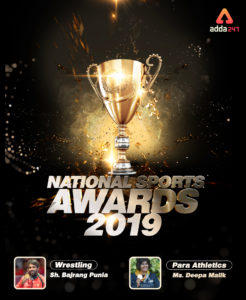 Selection Committee for the Sports Awards 2019 has announced the National Sports Awards 2019. National Sports Awards are given every year to recognize and reward excellence in sports. The awardees will receive their awards from the President of India at a specially organized function at the Rashtrapati Bhawan.
Selection Committee for the Sports Awards 2019 was headed by Justice Mukundakam Sharma, Retired Judge, Supreme Court.
Apart from a medal and a citation, Rajiv Gandhi Khel Ratna Awardee will receive a cash prize of Rs. 7.5 lakh. Arjuna, Dronacharya and Dhyan Chand Awardees will receive statuettes, certificates and cash prize of Rs. 5 lakh each. A trophy and citation is given to the entity in the Rashtriya Khel Protsahan Puruskar, 2019. Recipients of Rashtriya Khel Protsahan Puruskar will be given Trophies and certificates. Overall top performing university in inter-university tournaments will be given MAKA Trophy, award money of Rs. 10 lakh and certificate.
The complete list of awardees:
| Sr. No. | Award | Name | Discipline |
| --- | --- | --- | --- |
| 1 | RAJIV GANDHI KHEL RATNA AWARD | Sh. Bajrang Punia | Wrestling |
| 2 | RAJIV GANDHI KHEL RATNA AWARD | Ms. Deepa Malik | Para Athletics |
| 3 | DRONACHARYA AWARD (Regular Category) | Sh. Vimal Kumar | Badminton |
| 4 | DRONACHARYA AWARD (Regular Category) | Sh. Sandeep Gupta | Table tennis |
| 5 | DRONACHARYA AWARD (Regular Category ) | Sh. Mohinder Singh Dhillon | Athletics |
| 6 | DRONACHARYA AWARD (Life-Time Category) | Sh. Merzban Patel | Hockey |
| 7 | DRONACHARYA AWARD (Life-Time Category) | Sh. Rambir Singh Khokhar | Kabaddi |
| 8 | DRONACHARYA AWARD (Life-Time Category) | Sh. Sanjay Bhardwaj | Cricket |
| 9 | ARJUNA AWARD | Sh. Tajinderpal Singh Toor | Athletics |
| 10 | ARJUNA AWARD | Mohammed Anas Yahiya | Athletics |
| 11 | ARJUNA AWARD | Sh. S. Bhaskaran | Body Building |
| 12 | ARJUNA AWARD | Ms. Sonia Lather | Boxing |
| 13 | ARJUNA AWARD | Sh. Ravindra Jadeja | Cricket |
| 14 | ARJUNA AWARD | Sh. Chinglensana Singh Kangujam | Hockey |
| 15 | ARJUNA AWARD | Sh. Ajay Thakur | Kabaddi |
| 16 | ARJUNA AWARD | Sh. Gaurav Singh Gill | Motor Sports |
| 17 | ARJUNA AWARD | Sh. Pramod Bhagat | Para Sports (Badminton) |
| 18 | ARJUNA AWARD | Ms. Anjum Moudgil | Shooting |
| 19 | ARJUNA AWARD | Sh. Harmeet Rajul Desai | Table Tennis |
| 20 | ARJUNA AWARD | Ms. Pooja Dhanda | Wrestling |
| 21 | ARJUNA AWARD | Sh. Fouaad Mirza | Equestrian |
| 22 | ARJUNA AWARD | Sh. Gurpreet Singh Sandhu | Football |
| 23 | ARJUNA AWARD | Ms. Poonam Yadav | Cricket |
| 24 | ARJUNA AWARD | Ms. Swapna Barman | Athletics |
| 25 | ARJUNA AWARD | Sh. Sundar Singh Gurjar | Para Sports (Athletics) |
| 26 | ARJUNA AWARD | Sh. Bhamidipati Sai Praneeth | Badminton |
| 27 | ARJUNA AWARD | Sh. Simran Singh Shergill | Polo |
| 28 | DHYANCHAND AWARD | Sh. Manuel Fredricks | Hockey |
| 29 | DHYANCHAND AWARD | Sh. Arup Basak | Table Tennis |
| 30 | DHYANCHAND AWARD | Sh. Manoj Kumar | Wrestling |
| 31 | DHYANCHAND AWARD | Sh. Nitten Kirrtane | Tennis |
| 32 | DHYANCHAND AWARD | Sh. C. Lalremsanga | Archery |
| 33 | RASHTRIYA KHEL PROTSAHAN PURUSKAR | (i) Gagan Narang Sports Promotion Foundation(ii) GoSports Foundation | Identification and Nurturing of Budding and Young Talent' |
| 34 | RASHTRIYA KHEL PROTSAHAN PURUSKAR | Rayalaseema Development Trust | Sports for Development |
Source: Press Information Bureau