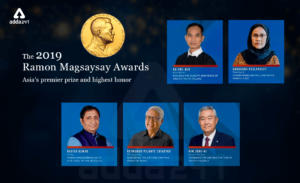 Indian journalist Ravish Kumar has been awarded the 2019 Ramon Magsaysay Award for "harnessing journalism to give voice to the voiceless".
The Magsaysay award was started in 1957 and celebrates the memory and leadership example of the former Philippine president Ramon del Fierro Magsaysay. It is given every year to individuals or organisations in Asia who manifest the same selfless service and transformative influence that ruled the life of the late and beloved Filipino leader. Ramon Magsaysay Award is regarded as the Asian version of the Nobel Prize. The awardees are presented with a medallion with a right side facing profile image of Ramon Magsaysay along with a certificate.
The other winners of the award are:
Ko Swe Win (Myanmar): He is a human rights defender and the chief editor of Myanmar Now news agency.
Angkhana Neelapajit (Thailand) is human rights activist and a leading human rights defender in Southern Thailand.
Raymundo Pujante Cayabyab (Philippines) is a musician who has served in the music faculty of the University of the Philippines and has conducted free workshops for thousands of students all across the country.
Kim Jong-Ki (South Korea) is an activist working with violence and mental health issues in youth and a South Korean agrarian movement leader who pioneered wasteland cultivation, and strove to demonstrate through his work that life as a farmer can be fulfilling and productive.
Source: The Indian Express