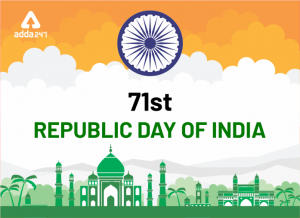 The nation celebrated the 71st Republic Day with a grand military parade and exhibition of its history, cultural diversity and strategic weaponry at the Rajpath, Delhi. This day is celebrated by all Indians and 26th of January has been declared as a national holiday by the government of India. The Republic Day ceremony commenced with Prime Minister Narendra Modi paying homage to martyrs at the National War Memorial instead of Amar Jawan Jyoti. The National Flag was unfurled followed by the National Anthem with a booming 21-gun salute.
Important Facts of 71st Republic Day:
The chief guest for this year's republic day parade is Brazilian president, Jair Messias Bolsonaro. 
For the first time, a contingent of women bikers of CRPF performed daredevil stunts.
Jammu and Kashmir participated in the parade for the first time as a Union Territory.
Meghalaya's Tableau depicted the Double Decker Living Root Bridge which is a main tourist attraction of the state.
Telangana's tableau brought to life its floral festival called Bathukamma.
The Tableau of Gujarat was on the theme Rani ki Vav – Jal Mandir which is a unique piece of ancient Indian architectural style, construction work and craftsmanship.
The Air Force tableau displayed models of the Rafale aircraft, Tejas aircraft, Light Combat Helicopter, Akash Missiles System and Astra Missiles.
The major attraction was fly-past by the newly inducted Chinook and Apache helicopters along with Sukhoi and advanced light helicopters.
Anti-satellite weapons: Mission Shakti, Army's battle tank Bhishma was also showcased in the parade.
Republic Day Of India: Importance
India became independent on 15th of august, 1947. Even after independence, the country did not have a sound constitution. The laws, before the enactment of the constitution, were running on the basis of Government of India Act 1935. Having realized the need for a permanent constitution and its own governing body, the government of India appointed a Drafting Committee on 28th of August 1947 to draft it and Dr, B. R. Ambedkar as the Chairman of the Drafting Committee.
After almost 3 years, the 308 members of the Assembly, after many consultations and a few modifications finally signed a constitution on 24th of January 1950, which came into effect on 26th of January 1950. And, that day, is being celebrated as Republic Day in India ever since then. This day defines the importance of having a proper constitution that all the citizens must abide by.