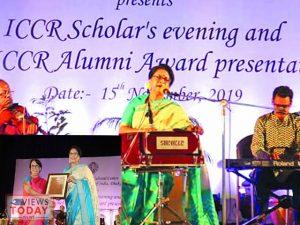 Renowned Rabindra Sangeet exponent from Bangladesh Rezwana Choudhury Bannya has conferred the ICCR distinguished alumni award in Dhaka, Bangladesh. The award was given away by the High Commissioner of India to Bangladesh Riva Ganguly Das in a musical function organised by the Indira Gandhi Cultural Centre (IGCC).
Rezwana Choudhury Bannya is widely recognised as a great exponent of Rabindra Sangeet. She is known for her distinctive style of singing. She has established a musical school 'Shurer Dhara' in Bangladesh to carry forward the Guru-Shishya tradition as practised in Shantiniketan.
Distinguished Alumni Award was instituted in 2015 to recognise foreign students who have studied in various Indian Universities under the ICCR sponsored scholarship schemes and made an exemplary contribution in varied fields.
Source: The News on AIR