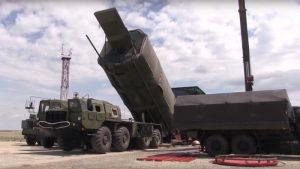 Russia's 1st missile unit equipped with Avangard Hypersonic glide vehicle enters into service. Russia's defence ministry stated that a new hypersonic weapon with latest strategic missiles of intercontinental range has became operational. The nuclear-capable missiles can travel more than 20 times the speed of sound. They have a "glide system" that affords great manoeuvrability and could make them impossible to defend against.
The Avangard can carry a nuclear weapon of up to 2 megatons. Avangard is designed using new composite materials to withstand temperatures of up to 2,000 Celsius resulting from a flight through the atmosphere at hypersonic speeds.
Important takeaways for all competitive exams:
President of Russia: Vladimir Putin; Capital: Moscow; Currency: Russian Ruble.
Source: The BBC News