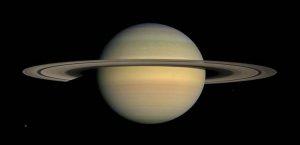 A team of astronomers has discovered a haul of 20 new moons orbiting the ringed planet, Saturn. This discovery has brought its total to 82 moons, while Jupiter, by contrast, has 79 natural satellites. The moons were discovered using the Subaru telescope on Maunakea, Hawaii.
Each of the newly discovered objects in orbit around Saturn is about 5 km in diameter and 17 of them orbit the planet "backwards" i.e. retrograde direction. The other three moons orbit in a prograde direction i.e. the same direction as Saturn rotates.
Dr Scott Sheppard of the Carnegie Institution for Science in Washington DC led the team of astronomers including David Jewitt of University of California, Los Angeles (UCLA), and Jan Kleyna of the University of Hawaii.
Source: The BBC