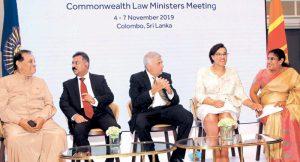 The biennial Commonwealth Law Ministers' Conference is being held in Colombo, Sri Lanka from 4-7 November 2019. India will be represented at the conference by Union Minister for Law and Justice Ravi Shankar Prasad. The theme for the 2019 CLM Conference is 'Equal Access to Justice and the Rule of Law'. The Conference seeks to address challenges faced by millions of people seeking to resolve legal disputes. These include barriers such as poverty, lack of legal aid, distrust of the justice system and corruption.
Static/Current Takeaways Important For RRB NTPC/SSC CGL:
Sri Lanka Capitals: Sri Jayawardenepura Kotte; Currency: Sri Lankan rupee.
Prime minister: Ranil Wickremesinghe; President: Maithripala Sirisena.
Source: The News on AIR