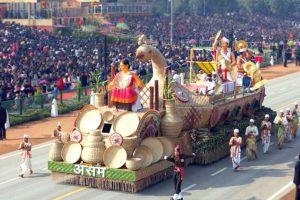 The Tableaux of Assam wins the 1st prize at the Republic Day Parade, 2020 among the States/Union Territories. The theme of Assam's tableau was "Land of unique craftsmanship and culture", displaying bamboo and cane work and Bhortal Nritya performed by Xattriya dancers.  Best Tableaux awards for Republic Day Parade, 2020 was given by Defence Minister Rajnath Singh.
Odisha and Uttar Pradesh won tied second prize. Odisha's tableau depicted Lord Lingaraja's Rukuna Rath Yatra whereas the tableau of Uttar Pradesh showcased the state's cultural and religious heritage.
The tableaux of National Disaster Relief Force (NDRF) and Jal Shakti Mission have jointly adjudged the best tableau among the Ministries and Departments. Central Public Works Department (CPWD) got the Special Prize for their tableau based on the theme Kashmir se Kanyakumari.