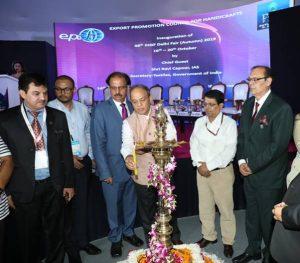 Textiles Secretary, Ravi Capoor, inaugurated the 48th edition of the Indian Handicrafts and Gifts Fair (IHGF) at the India Expo Centre & Mart at Greater Noida. More than 3,200 Indian exhibitors are participating in the fair. Around 110 overseas buyers from 110 countries are participating in the event as well. They are here to source furniture, fashion, lifestyle and textiles products of the exhibitors.
Handicrafts are important in terms of economic development. The sector provides a number of opportunities for unemployed with minimal investment. The sector earns around Rs 43,000 crores (2015) of rupees annually. Out of this, it earns an export of Rs 10,000 crores annually.
The theme of IHGF-Delhi Fair 2019: Reduce, Reuse, Recycle.
Source: The Press Information Bureau
Find More Miscellaneous News Here