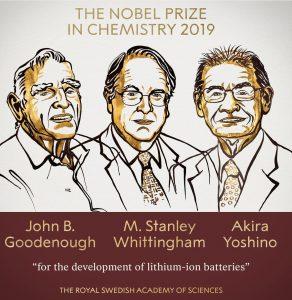 The Royal Swedish Academy of Sciences has decided to award the Nobel Prize in Chemistry 2019. The prize will be awarded jointly to John B. Goodenough, M. Stanley Whittingham and Akira Yoshino. They have been nominated for the prize for the development of lithium-ion batteries.
This lightweight, rechargeable and powerful battery is now used in everything from mobile phones to laptops and electric vehicles.
The prize committees are currently working carefully and independently to select the recipients of the 2019 Nobel Prize and the laureates for other fields: Literature, Peace Prize and the Sveriges Riksbank Prize in Economic Sciences in Memory of Alfred Nobel. The recipient for above prizes will be announced as per the schedule between 10th to 14th October, 2019.
Source: nobleprize.org