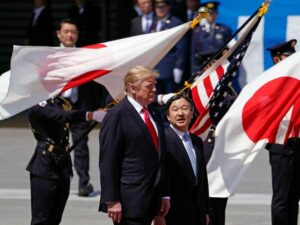 US President Donald Trump got the red carpet treatment at Japan's Imperial Palace where he made history, becoming the first world leader to meet with the new emperor of Japan Naruhito.
The US President is on a four-day state visit to Japan. Trump will go to the Japanese state guest house later for meetings and joint news conference with Japanese Prime Minister Shinzo Abe.
Important Takeaways for LIC AAO/ADO Mains-
1. Japan is an island country in East Asia.
2. Tokyo is the capital city of Japan.
3. The yen is the official currency of Japan.
Source- All India Radio (AIR News)
Find More International News Here