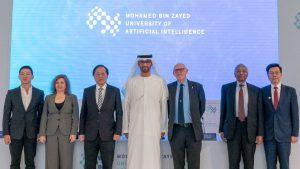 UAE announced the establishment of the Mohamed bin Zayed University of Artificial Intelligence( MBZUAI) in Abu Dhabi. This is the first graduate-level, research-based AI university in the world. MBZUAI will enable graduate students, businesses and governments to advance the artificial intelligence field.
MBZUAI will introduce a new model of academia and research to the field of AI, providing students and faculty access to some of the world's most advanced AI systems to unleash its potential for economic and societal development.
The University is named after Sheikh Mohamed bin Zayed Al Nahyan, Crown Prince of Abu Dhabi and Deputy Supreme Commander of the UAE Armed Forces, who has long advocated for the UAE's development of human capital through knowledge and scientific thinking to take the nation into the future.
Static/Current Takeaways Important For RRB NTPC/IBPS RRB Mains:
Currency of UAE: Dirham, Capital: Abu Dhabi.
Source: The News on AIR
Find More International News Here