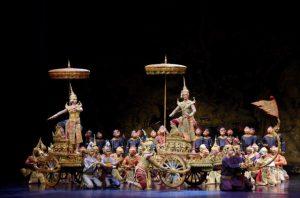 The Culture Department of Uttar Pradesh government is going to organise the country's first training and performance programme of world-famous KHON  Ramlila, a masked form of Ramlila art of Thailand in collaboration with the Thai government.
KHON Ramlila of Thailand is included in the list of UNESCO's Intangible cultural heritage and it's a form of masked dance depicting the scenes of Ramlila. It has no dialogues and background voices narrate the whole story of Ramayana. KHON Ramlila's performance is also a visual delight famous for its beautiful attire and golden masks.
Static/Current Takeaways Important For RRB NTPC/IBPS RRB Mains:
Thailand Capital: Bangkok; Currency: Baht.
Source: The News on AIR