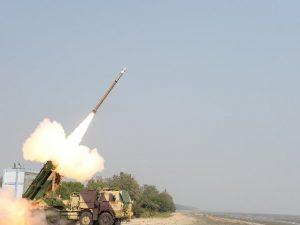 An upgraded version of the indigenously developed Pinaka-guided rocket system with enhanced strike range and guidance system was successfully test-fired from the DRDO's Proof and Experimental Establishment firing test range off Odisha coast. The system has a maximum range of 40 km for Mark-I and 75 km for Mark-II and can fire a salvo of 12 HE rockets in 44 seconds. It is mounted on a Tatra truck for mobility.
Pinaka is an indigenous multi-barrel rocket launch (MBRL) system, which has been developed by the Defence Research and Development Organisation (DRDO) for the Indian Army. The weapon system is equipped with state-of-the-art guidance kit comprising of an advanced navigation and control system.
While the all-weather tracked-chassis Quick Reaction Surface-to-Air Missile (QR-SAM) also tested from a mobile launcher at a launch complex of the Integrated Test Range.
Static/Current Takeaways Important For IBPS SO 2019:
DRDO Chairman: G Satheesh Reddy, Established: 1958, Headquarters: New Delhi.
Source: The News on AIR
Find More News Related to Defence