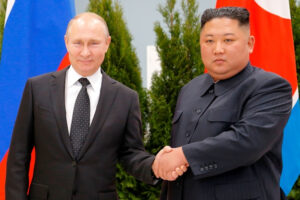 Russia's Vladimir Putin and North Korea's Kim Jong Un met face-to-face for the first time and vowed to seek closer ties. The meeting was held at Russia's Pacific port city of Vladivostok. Efforts to ease tensions on the Korean peninsula and ways to boost economic ties were discussed.
Six-party talks on North Korean de-nuclearization started back in 2003. The talks involve China, Japan, Russia, the US along with North Korea and South Korea. The last round of such talks took place in 2007.
Source- News on AIR
Static/Current Takeaways Important For SBI Mains 2019: 
Russia Capital: Moscow, Currency: Russian ruble.
North Korea Capital: Pyongyang, Currency: North Korean won.
Find More International News Here