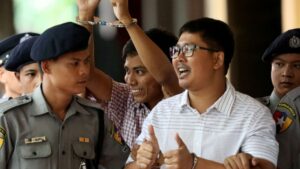 Reuters journalists, Kyaw Soe Oo, and Wa Lone have been selected for UNESCO/Guillermo Cano Press Freedom Prize 2019. Currently, they are serving 7-year prison sentences in Myanmar.
They collected classified military records that revealed extrajudicial assassinations of Rohingya Muslims by the army in Rakhine State. The UNESCO/Guillermo Cano World Press Freedom Prize will be given on May 2 as part of the observance of World Press Freedom Day (3 May) in Ethiopia.
Source: UNESCO
Static/Current Takeaways Important for LIC AAO Exam:
The award is a tribute to Colombian journalist Guillermo Cano Isaza. In December 1986, he was killed in front of the offices of his newspaper El Espectador in Bogota, Colombia.
UNESCO Headquarters: Paris, France.