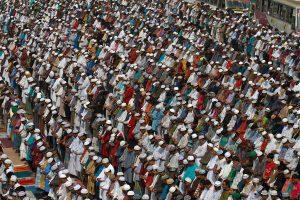 In Madhya Pradesh, the 4-day Aalmi Tablighi Ijtima, world's biggest Islamic Congregation began in Bhopal. More than one million people from 54 countries are expected to attend the congregation which will continue till 25th November. It is a forum for delivering some important religious-spiritual messages to Muslims around the world.
Ijtima started in the era of Nawabs in Bhopal and now it has become the identity of Bhopal worldwide. The first Alami Tablighi Ijtima took place in Bhopal in 1944 and only 14 people attended it then. Now the number has increased to millions. Thousands of people from various countries across the world including Russia, France, Indonesia, Malaysia, Iraq and Saudi Arabia have reached Bhopal to participate in this event.
Static/Current Takeaways Important For RRB NTPC/SSC CGL:
Governor of Madhya Pradesh: Lal Ji Tandon.
Chief Minister of Madhya Pradesh: Kamal Nath.
Source: The News on AIR 
Find More Miscellaneous News Here