Defence Production in India Surpasses ₹1 Lakh Crore Mark on the Back of Crucial Reforms
India has achieved a significant milestone in its defence sector as the value of defence production in the country crossed ₹1 lakh crore for the first time. This achievement is a result of key reforms implemented to boost growth in the sector and reduce reliance on military imports. The value of defence production has nearly doubled over the past five years, reflecting India's efforts to strengthen its position as a weapons and systems exporter.
Steady Growth and Reforms
The value of defence production reached ₹1,06,800 crore in the financial year 2022-23, compared to ₹95,000 crore in FY 2021-22 and ₹54,951 crore five years ago. This remarkable growth can be attributed to consistent efforts by the defence ministry and the implementation of various reforms. The government has taken steps such as banning the import of certain weapons and systems, creating a separate budget for local procurement, increasing foreign direct investment, and improving ease of doing business.
Buy Prime Test Series for all Banking, SSC, Insurance & other exams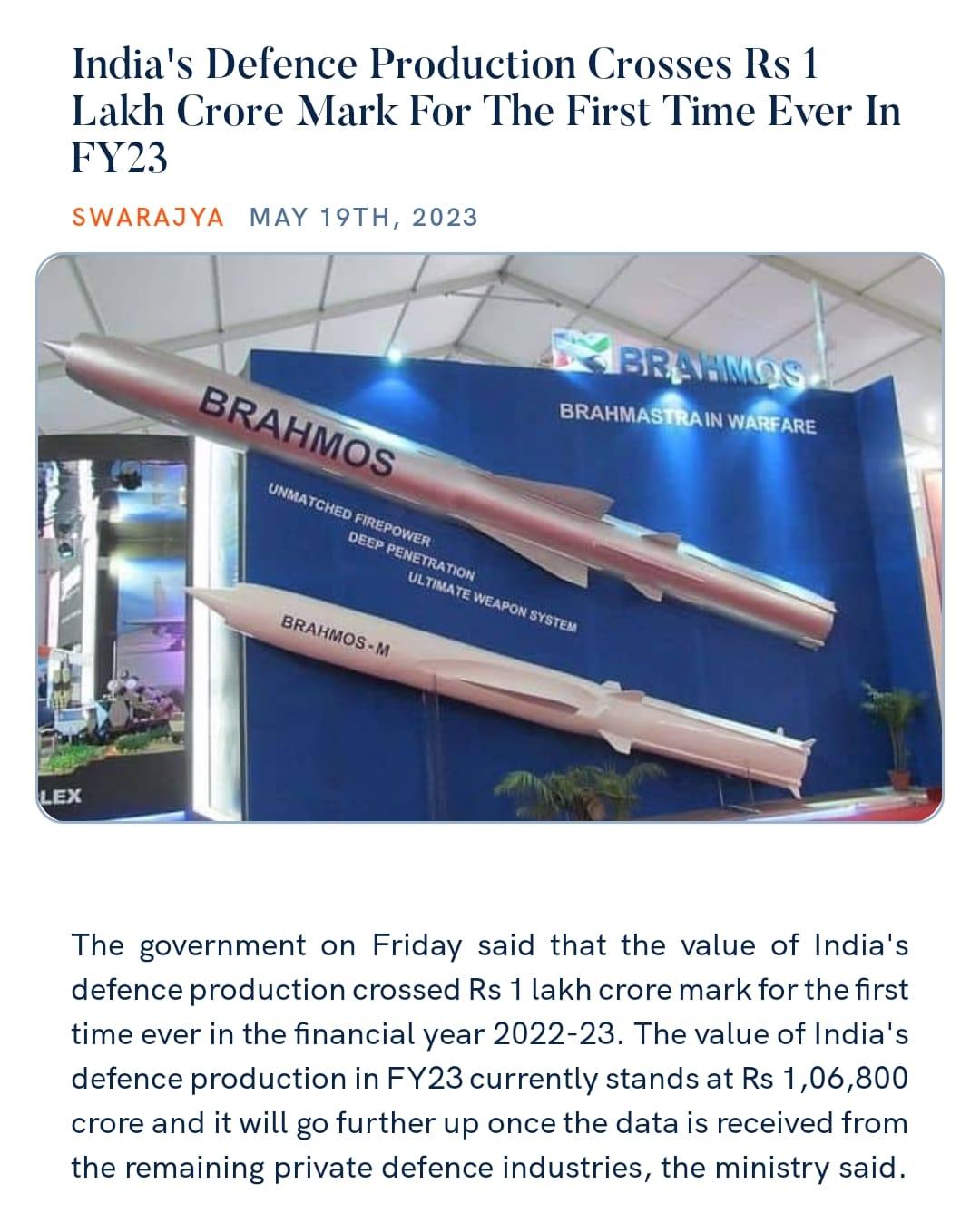 Encouraging Results
India's focus on defence manufacturing has begun to yield positive results. The value of defence production has grown by 12% compared to the previous year, showcasing the sector's potential. India produces a wide range of weapons and systems, including the Tejas light combat aircraft, helicopters, warships, tanks, artillery guns, missiles, rockets, and military vehicles. Although a detailed category-wise breakdown is not immediately available, the overall growth in defence production is a promising sign.
Boosting Self-Reliance
India has adopted a two-pronged approach to achieve self-reliance in defence production. Firstly, it has banned the import of weapons and systems such as fighter jets, warships, and artillery guns. Secondly, it has focused on indigenizing sub-systems, spares, and components required for larger weapon platforms. To support these efforts, the government has published several lists of items to be indigenized within the next five to six years. Import substitution of ammunition has also received special emphasis.
Enhancing Export Potential
In addition to reducing dependence on imports, India has made strides in boosting its defence exports. In FY 2022-23, India exported military hardware worth ₹15,920 crore, marking a significant tenfold increase since 2016-17. The country currently exports to around 85 countries, with approximately 100 firms involved in the exports. The product range includes missiles, artillery guns, rockets, armoured vehicles, patrol vessels, protective gear, radars, surveillance systems, and ammunition. Notable export items include the LCA, helicopters, Astra air-to-air missiles, and tanks.
Promoting Ease of Doing Business
The Indian government has been actively working with the defence industry and associations to remove hurdles and promote defence production. Policy reforms have been implemented to improve ease of doing business, including integrating micro, small, and medium enterprises (MSMEs) and start-ups into the supply chain. These measures have not only enhanced the defence manufacturing ecosystem but also generated employment opportunities in the sector.
Future Outlook
India's defence production is expected to continue its upward trajectory, driven by ongoing reforms and increasing participation from private defence firms. The corporatization of the Ordnance Factory Board has further boosted efficiency and competitiveness. The government aims to achieve a turnover of ₹1,75,000 crore in defence manufacturing by 2024-25, and with the current pace of indigenization, it is confident of reaching this target.
Also Read: Air Marshal Ashutosh Dixit takes over as Deputy Chief of Air Staff