The Unified Payments Interface (UPI) network witnessed remarkable growth in July 2023, setting new records in both transaction volume and value. After a minor dip in June, UPI transactions surged by 44% year-on-year (YoY) and reached a staggering ₹15.34 lakh crore. The number of transactions also hit a new high of 996 crore, a significant increase of 58% compared to July 2022. Market participants predict that UPI transactions will continue to grow, possibly crossing the 1,000-crore mark in the current quarter.
Unprecedented Growth in Volume and Value: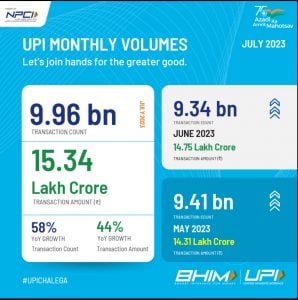 UPI transactions saw a remarkable 44% YoY growth in value, reaching ₹15.34 lakh crore in July 2023.
The number of transactions skyrocketed by 58% YoY, recording an all-time high of 996 crore during the month.
The growth in the value of UPI transactions has consistently exceeded 40% YoY, while the volume has remained above 50% YoY.
Impressive Performance in FY23:
In the fiscal year 2022-23, the UPI platform processed a staggering 8,376 crore transactions amounting to ₹139 lakh crore, showcasing its robust performance.
This represents a significant surge compared to FY22, where UPI processed 4,597 crore transactions worth ₹84 lakh crore.
Driving Retail Digital Payments:
UPI has been a key driver in the growth of retail digital payments, achieving a Compound Annual Growth Rate (CAGR) of 50% in volume and 27% in value between FY17 and FY22, as reported by RBI's annual report for 2022-23.
Digital Payments Index and Fintech Adoption:
The central bank's Digital Payments Index, measuring the level of digitization of payments in India, rose to 395.57 in March 2023, indicating the country's increasing reliance on digital transactions.
The Economic Survey for 2022-23 revealed that UPI transactions grew at an average rate of 121% in value and 115% in volume between FY19 and FY22.
India boasts an impressive fintech adoption rate of 87%, surpassing the global average of 64%, securing the country the third spot in digital payments, behind the US and China.
Future Projections and Dominance of UPI Payments:
A report by PwC India suggests that UPI transactions are projected to surpass 100 crore transactions per day by FY27, indicating sustained growth in the future.
UPI payments are expected to dominate the retail digital payments landscape, accounting for an impressive 90% of total transaction volumes over the next five years.
Find More News on Economy Here