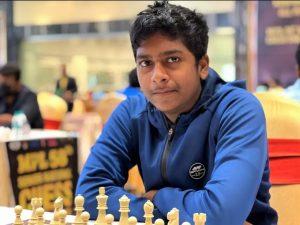 15-­year­-old, Pranav Anand from Bengaluru, Karnataka became India's 76th Chess GrandMaster (GM) after winning against International Master (IM) Emin Ohanyan of Armenia. He received the title after he crossed the 2,500 Elo points in the ongoing World Youth Chess Championship in Mamaia, Romania. A month before Pranav Anand became India's 76th GM, Pranav Venkatesh became India's 75th Grandmaster.
Bank Maha Pack includes Live Batches, Test Series, Video Lectures & eBooks
In order to qualify for the GM title, a player must secure 3 GM norms covering 27 games and cross the live rating of 2,500 Elo points. Pranav Anand needs to cross the live rating of 2,500 which he did in the penultimate round of the World Youth Under­16 Open 2022. In July, he scored the 3rd and final GM norm at the 55th Biel Chess Festival in Switzerland. He has drawn his game against Spain's No.5 GM Eduardo Iturrizaga Bonelli (2619) in the penultimate round.
About GrandMaster (GM):
GrandMaster is the highest title apart from World Champion awarded to Chess players International Chess Federation FIDE. India's 1st Chess GrandMaster was won by Viswanathan Anand at the age of 14 in 1988.