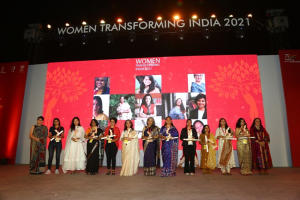 The Women Entrepreneurship Platform (WEP) of the NITI Aayog organised the 5th edition of the Women Transforming India Awards (WTI). As part of the Azadi ka Amrit Mahotsav, to celebrate 75 years of India's independence, the WTI Awards have been conferred 75 women achievers for their contribution towards a 'Sashakt Aur Samarth Bharat'.
Buy Prime Test Series for all Banking, SSC, Insurance & other exams
Here is the full list of Winners:
Aardra Chandra Mouli, Aeka Biochemicals
Aditi Avasthi, Individual Learning Limited (Imbibe)
Aditi Bhutia Madan, BluePine Food Pvt. Ltd
Akshita Sachdeva, Trestle Labs Pvt. Ltd
Akshya Shree, Tad Udyog Pvt. Ltd
Alina Alam, Mitti Social Initiatives Foundation
Anita Devi, Madhopur Farmers Producers Company
Anju Bisht, Amrita SeRVe (Saukhyam Reusable Pad)
Anju Srivastava, Winegreens Farms
Anu Acharya, Mapmygenome India Ltd
Anuradha Parekh, Vikara Services Pvt. Ltd (The Better India)
Aparna Hegde, Armman
Ayushi Mishra, DronaMaps
Chahat Vasal, NerdNerdy Technologies Pvt. Ltd
Chayaa Nanjappa, Nectar Fresh
Chetna Gala Sinha, Mann Deshi Mahila Sahakari Bank
Darshana Joshi, VigyanShaala International
Dhevibala Umamaheswaran, Bigfix Gadget Care LLP
Dipa Chaure, Krantijyoti Mahila Bachat Gat (Rural)
Gauri Gopal Agarwal, Skilled Samaritan Foundation (Sirohi)
Gayathri Vasudevan, LabourNet Services India Pvt. Ltd
Geeta Solanki, Unipads India Pvt. Ltd
Dr Girija K. Bharat, Mu Gamma Consultants Pvt. Ltd
Gitanjali J. Angmo, Himalayan Institute of Alternatives, Ladakh
Hardika Shah, Kinara Capital
Hasina Kharbhih, Impulse NGO Network
Hina Shah, ICECD
Jo Aggarwal, Touchkin eServices Pvt. Ltd (Wysa)
Khushboo Awasthi, Mantra Social Services
Kirti Poonia, Okhai
Malini Parmar, Stonesoup
Mayura Balasubramanian, Craftizen Foundation
Megha Bhatia, Our Voix
Meha Lahiri, Recity Network Pvt. Ltd
Mita Kulkarni, Forest Essentials
Neelam Chhiber, Industree Crafts Foundation
Neetu Yadav, Animall Technologies Ltd
Neha Satak, Astrome Technologies Pvt. Ltd
Nimisha Varma, Aloe ECell
Nisha Jain Grover, Vatsalya Legacy Educational Society
Payal Nath, Kadam Haat
Pooja Sharma Goyal, Building Blocks Learning Solutions Pvt. Ltd
Prachi Kaushik, Vyomini Social Enterprise
Preeti Rao, Weljii
Prema Gopalan, Swayam Shikshan Prayog
Priti Patel, Raspian Enterprises Pvt. Ltd
Puunam G. Kaushik, Meteoric Biopharmaceuticals Pvt. Ltd
Dr Radhika Batra, Every Infant Matters
Rajoshi Ghosh, Hasura
Ramya S. Moorthy, Nimaya Innovations Pvt. Ltd
Richa Singh, YourDOST Health Solutions Pvt. Ltd
Romita Ghosh, Heal Healthtech Pvt. Ltd
Roopa Maganti, Greentatwa Agri TechL LLP
Samina Bano, RightWalk Foundation
Savita Garg, Eclassopedia
Sayalee Marathe, Aadyaa Originals Pvt. Ltd
Shaheen Mistri, The Akanksha Foundation
Shalini Khanna Sodhi, National Association for the Blind
Shanti Raghavan, EnAble India
Suchetha Bhat, Dream a Dream
Suchi Mukherjee, LimeRoad
Suchitra Sinha, Ambalika
Sugandha Sukrutaraj, Amba
Sulajja Firodia Motwani, Kinetic Green Energy and Power Solutions
Sumita Ghose, Rangsutra Crafts India
Supriya Paul, Josh Talks
Susmita Mohanty, Earth2Orbit
Dr Swapna Priya K., Farms2fork Technologies Pvt. Ltd (CultYvate)
Swati Pandey, Arboreal Bioinnovations Pvt. Ltd
Tanuja Abburi, Transformation Skills India Pvt. Ltd
Trishla Surana, Colour Me Mad Pvt. Ltd
Trupti Jain, Naireeta Services
Victoria Joshlin D'Souza, Swachha Eco Solutions Pvt. Ltd
Vidya Subramanian, Vidya Subramanian Academy
Vijaya Swithi Gandhi, Chitrika
About the Women Transforming India Awards:
The Women Transforming India Awards has been presented since 2018 by NITI Aayog, under the aegis of Women Entrepreneurship Platform (WEP), to highlight the commendable and ground-breaking endeavours of India's women leaders and change-makers, with a special focus on entrepreneurship.