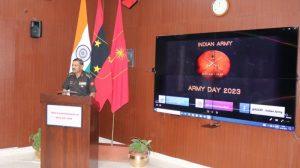 75th Indian Army Day
Indian army day 2023 is celebrated on 15th January 2023 and it mark the 75th anniversary of the Indian army day. Every year on January 15, India celebrates its Army Day. It is the day on which Field Marshal Kodandera M. Cariappa (then a Lieutenant General) took over as the first Commander­in­Chief of the Indian Army from the last British Commander­in­Chief of India, General Fransis Bucher in the year 1949. Parades, medal presenting and other ceremonies are organized to celebrate the Army Day. With "Service before self" as its motto, the Indian Army is the largest component of the Indian Armed Forces.
Buy Prime Test Series for all Banking, SSC, Insurance & other exams
History & Significance of Army Day 2023
Originally, the Indian army was formed under the British rule on April 1, 1895 and was called as British Indian Army. After India got its independence in the year 1947, it was only on January 15, 1949, when the country got its first Indian chief. Lt Gen K M Carriappa took over as commander­inchief of the Indian Army in 1949 from General Francis Butcher, the last British commander­in­chief ofIndia. The transfer of power from the British to India signifies an important moment in the Indian history and is celebrated as Army Day. This day also also honors the soldiers who have sacrificed their lives for the country
Indian Army Day 2023 Celebration
All Army Command headquarters celebrate Army Day to honor the soldiers of the country, who live for the protection of its independence and dignity and give their lives for it. Grand celebrations take place all across the country on this day. The main Army Day parade is conducted in Cariappa Parade ground in Delhi cantonment where salute is given to the fighters of the country. Military hardware, different contingents and a combat display are part of the parade. Gallantry awards and Sena medals are also awarded to the soldiers for their bravery on this day.
About Indian Army
The Indian Army is one of the most powerful militaries of the world, competing with superpowers like the US, Russia and China. The motto of the Indian Army is 'service before self' and its mission is to ensure national security and national unity, defend the nation from external aggression and internal threats, and maintain peace and security within its borders. Salute to the brave soldiers, who risk and sacrifice their lives to protect us. Even the Prime Minister of India Lal Bahadur Shastri in 1965 had given the slogan like "Jai Jawan Jai Kisan".
Important takeaways for all competitive exams:
29th Chief of the Army Staff: General Manoj Pande.