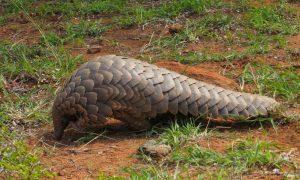 World Pangolin Day is celebrated on the 3rd Saturday of February. This international effort raises awareness about pangolin species and mobilizes various stakeholders to speed up conservation efforts. The 9th World Pangolin day was observed on February 15, 2020.
Madhya Pradesh has taken special initiative to conserve the Indian pangolin (Manis crassicaudata)  which is included in the highly endangered species. The MP Forest Department and the Wildlife Conservation Trust (WCT) have embarked on a joint project to understand and effectively conserve the ecology of the Indian pangolin.
In this project, radio-tagging of some pangolins is being done to study their activities, accommodation, routines etc. Two Indian pangolins have been successfully rehabilitated in the jungle.