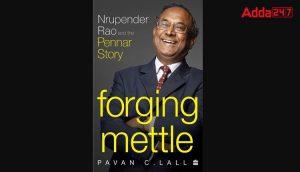 A senior journalist Pavan C Lall has authored a new book 'Forging Mettle: Nrupender Rao and the Pennar Story', which is set to be released in September 2022. The book will be published by HarperCollins Publishers India. The book is focused on how a business is built into a large organisation on the foundations of values and sustainability.
Bank Maha Pack includes Live Batches, Test Series, Video Lectures & eBooks
The essence of the book:
Forging Mettle is a story of Nrupender Rao, Chairman of the Board at Pennar Industries Limited and his entrepreneurial journey. The story gives a unique philosophy for a company, recommended to striving entrepreneurs to understand how to construct a principled and ethical institution. It's also the story of how a business built with ethics and social and environmental concern at the core of its values can indeed be profitable and sustainable.
Most business leaders trace their journeys on their balance sheet, counting how their profits have grown under their business acumen and the speed with which they accumulate fame, fortune and sometimes a cult of personality. When he took the leap of faith in 1987, buying the lossmaking Pennar Steels and hoping to turn it profitable, many thought it wasn't a wise decision. Decades later, the Pennar Group is an established name in diversified ventures that range from environment projects, solar projects, steel guard rails, railway coaches and infrastructure components.
Find More Books and Authors Here