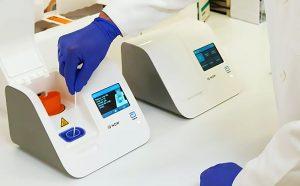 Abbott Laboratories, United States is unveiling a coronavirus test which will tell if someone is infected within 5 minutes. This test is so small and portable it is often utilized in almost any health-care setting. The test starts with taking a swab from the nose or the rear of the throat, then mixing it with a chemical solution that breaks open the virus and releases its RNA. The mixture is inserted into an ID Now system, a small box weighing slightly below 7 pounds that has the technology to spot and amplify select sequences of the coronavirus genome and ignore contamination from other viruses.
Click Here To Get Test Series For SBI PO 2020
The medical-device maker plans to provide 50,000 tests each day starting April 1. The technology builds on Illinois-based Abbott's ID Now platform, the foremost common point-of-care test currently available within the U.S., with quite 18,000 units spread across the country. It is widely used to detect influenza, strep throat and respiratory syncytial virus, a common bug that causes cold-like symptoms.
The equipment is often found out almost anywhere, but the corporate is functioning with its customers and therefore the Trump administration to make sure the primary cartridges wont to perform the tests are sent to where they're most needed. They're targeting hospital emergency rooms, urgent-care clinics and doctors' offices.
Important takeaways for all competitive exams:
Headquarters of Abbott Laboratories:

Chicago, Illinois, United States.

CEO of Abbott Laboratories:

Miles D. White.
Find More Miscellaneous News Here