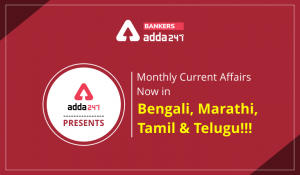 Adda247 has launched many sub-verticals viz. Adda247 Bengali, Adda247 Marathi, Adda247 Tamil and Adda247 Telugu. All the students who have been preparing for the State Exams can start preparing for their exams from these Adda247 App and that too in their own language.
What You Get in These Blogs?
You get everything that you need to crack State Exams like Group1, Group 2, Group 4 and State Police exams. Well to start with, we are providing Daily Current Affairs, Daily Quizzes and Important Job Alerts or Exam Updates. You just have to follow Adda247 App to get these updates instantly on your mobile.
Do I Need To Pay For These Study Material?
No. These Study Material is absolutely FREE for our students. In fact, you can follow Free Live Classes on Youtube for all these languages. You just have to be regular in order to get the latest Study Material and that too based on Recent Exam Patterns.
You can Download the Monthly Current Affairs From The link Provided Below:
Monthly Current Affairs | May 2021 in Bengali
Monthly Current Affairs | May 2021 in Marathi
Monthly Current Affairs | May 2021 in Tamil