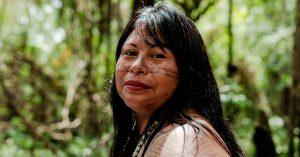 Alessandra Korap, an indigenous Munduruku woman from the Brazilian Amazon, has been recognized with a 2023 Goldman Environmental Prize, an esteemed award that acknowledges the efforts of six activists from six continents who work at the grassroots level to safeguard the environment. Since its establishment in 1989, the Goldman Prize has celebrated leaders who engage in local initiatives that result in positive environmental changes through citizen or community involvement.
Buy Prime Test Series for all Banking, SSC, Insurance & other exams
Alessandra Korap, a member of the Munduruku community in the Amazon rainforest, witnessed the encroachment of roads, farms, and cities into her village during the 1980s. The presence of settlers, loggers, and miners posed a danger to the 14,000 Munduruku people living along the Tapajos River. Along with other women, Korap took action by organizing protests against these outsiders and informing the Brazilian government about illegal agreements that granted developers access to native land. As a result of their efforts, the Brazilian government established a protected area in the rainforest.
Other prize winners are:
Tero Mustonen, a university professor and activist in Finland. Mustonen led a group to purchase a piece of land damaged by industrial activity.
Delima Silalahi, a Batak woman from North Sumatra, Indonesia. She organized native groups to fight for their rights to protect forests.
Chilekwa Mumba, an organizer from Zambia who helped people from an area hurt by copper mining.
Zafer Kizilkaya of Turkey, a conservationist and photographer who worked to create the first community-managed protected area in the Mediterranean Sea.
Diane Wilson, an American shrimp boat captain who won a legal case against a plastics company who discharged plastic waste into the Gulf of Mexico in Texas.
You may also read this:
Breast surgeon Dr Raghu Ram honour with Telugu Association of London award