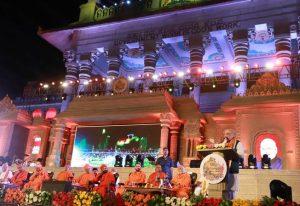 Union Home Minister and Minister of Cooperation Shri Amit Shah unveiled the statues of Lord Basaveshwara ji and Nadaprabhu Kempegowda ji at the State Assembly premises in Bengaluru, Karnataka. Lord Basaveshwara and Nadaprabhu Kempegowda are two prominent historical figures from Karnataka, a state in southern India. These statues will continue to give Basavanna ji and Kempegowda ji's message of social justice, democracy, good governance and development to those who get elected in the assembly.
Buy Prime Test Series for all Banking, SSC, Insurance & other exams
About the Lord Basaveshwara ji:
Lord Basaveshwara was a philosopher and social reformer who lived in the 12th century. He is considered the founder of the Lingayat religion, which is a major religious group in Karnataka. Basaveshwara worked to promote social justice and equality, particularly for women and lower castes. He emphasized the importance of individual devotion over caste-based rituals and was an early advocate for a democratic society.
About the Nadaprabhu Kempegowda ji:
Nadaprabhu Kempegowda was a feudal ruler who founded the city of Bangalore in the early 16th century. He is considered the founder of modern Bangalore and is revered as a hero in Karnataka. Kempegowda built numerous temples, tanks, and other infrastructure in and around Bangalore, and is known for his administrative skills and governance. His legacy is still celebrated in the city, particularly during the Kempegowda festival.
You may also read this: