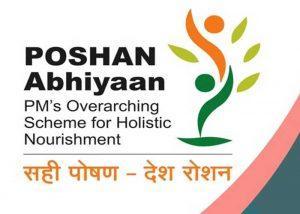 According to the report of NITI Aayog, "Transforming Nutrition in India: POSHAN Abhiyaan". Andhra Pradesh ranked 1st in the country for the overall implementation of POSHAN ( Prime Minister's Overreaching Scheme for Holistic Nourishment) Abhiyaan. The 2nd anniversary of POSHAN Abhiyaan is recognized by celebrating Poshan Pakhwada from 8th-22nd March 2020. Tamil Nadu tops the list of the states in terms of the number of participants in the programme.
The Andhra Pradesh State Government has given smartphones to all 55,607 Anganwadi workers to improve service delivery and for reporting day to day actions, as well as to council the targeted beneficiaries through video embedded in the application.
What is Poshan Abhiyan?
Government of India is implementing Poshan Abhiyan earlier known as National Nutrition Mission, since 18th December 2017 to address the problem of malnutrition in the country. The Abhiyan aims to reduce malnutrition in the country in a phased manner, through a life cycle approach, by adopting a synergized and result oriented approach. The goals of Poshan Abhiyan are to achieve improvement in the nutritional status of children from 0-6 years, adolescent girls, pregnant women and lactating mothers in a time-bound manner.
Important takeaways for all competitive exams:
Chief Minister of Andhra Pradesh: Y. S. Jaganmohan Reddy.
Governor of Andhra Pradesh: Biswa Bhushan Harichandan.
Capital of Andhra Pradesh: Amaravati.
Sri Venkateswara National Park is located in the Chittoor and Cuddapah districts of the state of Andhra Pradesh.
Visakhapatnam Port (Opened December 19, 1933) is one of 13 major ports in India and the only major port of Andhra Pradesh. It is India's second-largest port by volume of cargo handled.
Find More Ranks and Reports Here